HOW IT WORKS:
When you step in front of our booth, you'll see this image in our touchscreen. The 2×6″ photostrips prints two copies of the same picture, and the 6×4″ and the 4×6″ prints one copy. If you book 3 hours, the copies will be doubled. If you book 4hrs, you'll get 3 copies of every picture and when you book 5 hours, you'll get 4 copies of every 4×6″ and 8 copies of the photo strips. You can also record video greetings, boomerang GIF if you press "Record Video" on the bottom right side of the screen.
Lorsque vous entrez en face de notre stand, vous verrez cette image dans notre écran tactile . Les 2×6 " photostrips imprime deux copies de la même image , et le 6×4 " et le 4×6 " imprime une copie . Si vous réservez 3 heures , les copies seront doublés . Si vous réservez 4 heures , vous aurez 3 copies de chaque photo et lorsque vous réservez 5 heures , vous aurez 4 copies de chaque 4×6 " et 8 copies des bandes de photo . Vous pouvez également enregistrer les annonces vidéo , si vous appuyez sur " Enregistrement vidéo " sur le côté inférieur gauche de l'écran .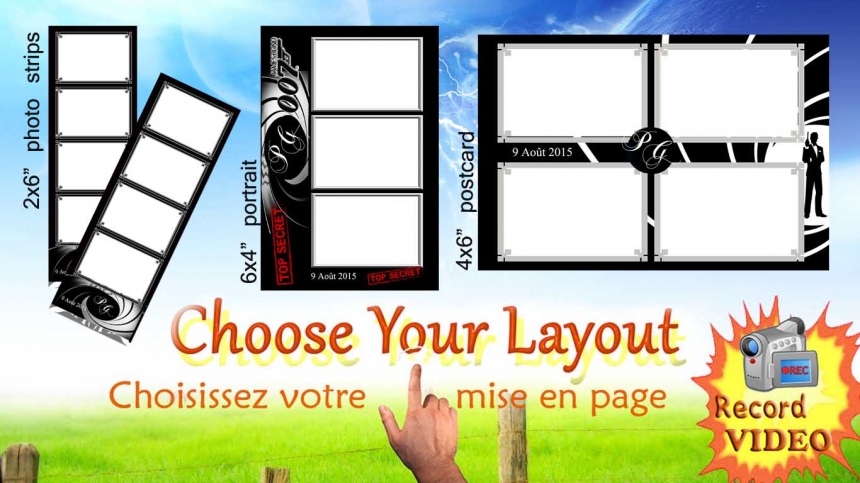 Once you select your desired layout, get ready to pose for your first picture.
Une fois que vous sélectionnez votre configuration désirée , soyez prêt à poser pour votre première photo.
You have a minimum 10 seconds to get ready for your 2nd and 3rd picture. Grab any props you can find from the props table and HAVE FUN!
Vous avez un minimum de 10 secondes pour être prêt pour votre 2ème et 3ème photo . Prenez tous les accessoires que vous pouvez trouver dans le tableau des accessoires et amusez-vous !
SOCIAL MEDIA KIOSK:
Our Social Media Kiosk is an iPad device based solution for guests to wirelessly transfer photos from our photobooth to their email, Text, Facebook, Instagram and Twitter.
Notre Social Media Kiosk est une solution basée sur le dispositif iPad pour les clients de transférer sans fil des photos de notre photomaton à leur e-mail , texte , Facebook , Instagram et Twitter .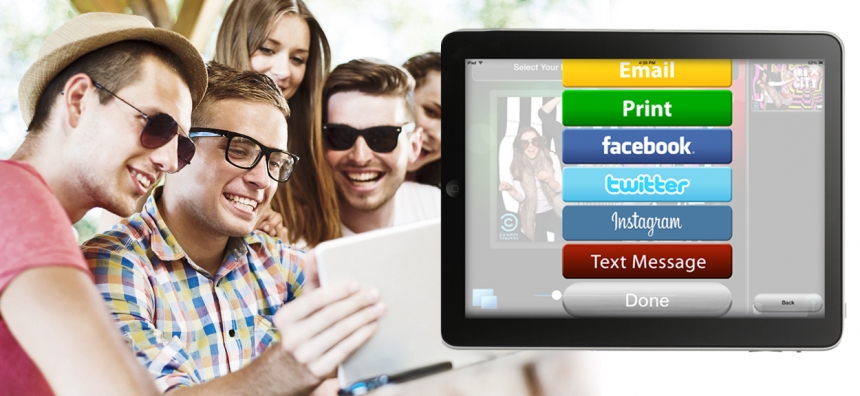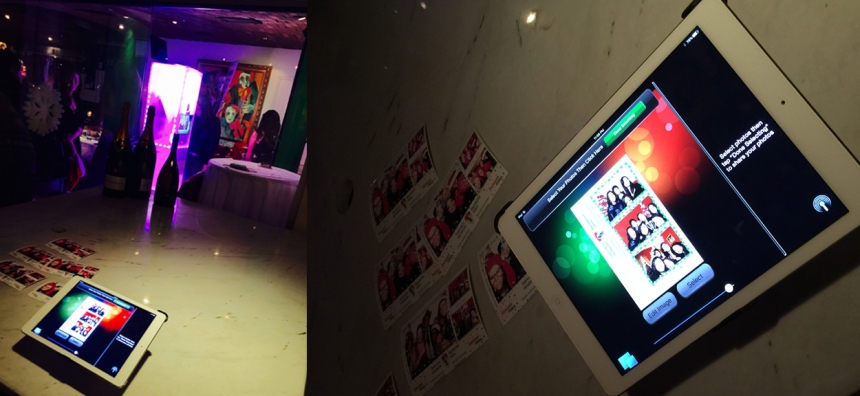 IN SIGHT TECHNICIAN:
Hartistic Photobooth specializes in corporate events and subcontracting booths and services to other entertainment booking companies. Manix is a professional Videographer/Photographer and editor by trade for nearly 20 years and has been in the photo booth business since 2010. A bit of a workaholic, he enjoys photography, graphic design, and building things, especially photo booths! Lourdes is a bit of everything  She is incharge of Bookings, Inquiries and Layout/Design.
SOCIAL MEDIA MARKETING:
A simple and easy to use, User friendly social media photobooth with your own company logo or brand. Its perfect for retail, promotion and marketing. Collect information such as names and email addresses to open a line of communication between your company and guest. Or use the data for statistics, analytics purposes. We've helped some of the largest brands in Canada to achieve their photo marketing goals for small and large events. Ideal for Marketing or Advertising Agencies.
BOOMERANG / GIF:
Supercharge your event/party with some dashing movement on our BOOMERANG booth for FREE. Included when you book a 2hrs or more package. (or add it on to our regular booth) you get all these goodies… Boomerang GIF, Regular GIF and Video Booth (check 'em out below).
GIFs are sent right to your guests' mobile phones (or emails) where they can then share them with the world wide webs (or not) via our iPad Kiosk.